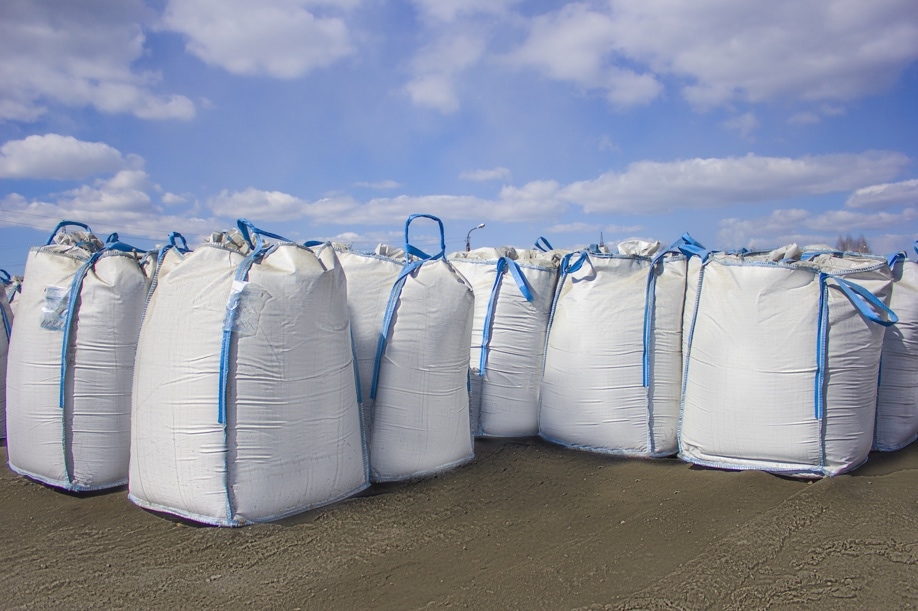 BULK BAGS
Leading Bulk Packaging Solutions
BSFL Packaging's range of 4-Loop bulk bags / builder bags / tonne bags / FIBCs , and compactor bags – provide customers with a cost effective solution for shipping and storing dry bulk products.
FIBCs are produced from either tubular or flat polypropylene (PP) woven fabrics. These can be either coated or uncoated and vary in weight depending on the clients requirements
To protect the contents further, inner liners can also be included to the bulk bag and are produced from polypropylene, aluminium, polyethylene, polyamide, or other special materials.
The bags can be a simple open top product with a flat base, commonly used within the building industry, or a high tech Pharmaceutical & Food Grade Bulk Bags produced within a clean room production environment.
Most importantly, each FIBC is manufactured to meet a customer's specific requirements.
Fabric Types
Coated, uncoated
Filling and discharge options
Various - see information pages
Lifting options
Various - see information pages
Safe Working Load (SWL)
Range from 1000Kgs to 2000Kgs
Safety factor (SF)
5:1 single use or 6:1 multi-use
Liners
Polyethylene, aluminium, liquid
Printing requirements (if any)
2-colour – 4-sides
Note - Please note stock bags cannot be printed
Our Range
Q Bag – Bulk Bag with Inner Baffles

The Baffle bulk bag is designed to offer an alternative to rigid forms of containerisation for transporting and storing products where best use of available space is essential.
Pharmaceutical & Food Grade Bulk Bags

Food Grade Bulk Bags supplied specifically for use in the Food and Pharmaceutical Industries are certified to FSSC 22000 standard.
UN Approved Bulk Bags for Hazardous Goods

BSFL Packaging offer a range of UN approved, or Hazardous Goods bulk bags designed and certified in accordance with the United Nations Recommendations on the Transportation of Dangerous Materials, usually known as the "Orange Book".
Conductive Bulk Bags (anti-static / type C)

BSFL Packaging offer a range of Bulk Bags manufactured and designed to manage the occurrence of static electricity safely during FIBC filling and emptying operations, which is a critical concern for many industries.
Bulk Vented Log Bags, Net Bags & Barrow Bags

These bulk vented log bags are manufactured with 2-sides of ventilated Polypropylene (PP) woven fabric with mosquito netting on the other two side panels.
Barrow Bags

Barrow Bags also known as Sack Truck Bags manufactured by BSFL Packaging are designed with top lifting loops and a flap top closure. The dimension of the Sack Truck "Barrow" Bags make for transportation easy where access is restricted to wheelbarrow / sack truck sized deliveries.
Bulk Bag Styles

All our FIBC's can be custom-made by providing us with your required size, dimension, preferred filling and discharge options. All custom-made bulk bags are manufactured to meet industry standards which includes safe working load and safety factor certification.
Custom Made Bulk Bag Packaging Solutions
As well as standard bulk bags we can manufacture bespoke bulk bags to provide individual solutions to your packaging requirements.
For custom made bulk bags we have approximate lead times of:
UK manufactured bulk bags can be produced within 10 to 14 working days
Imported bulk bags can be manufactured and imported within 6 to 8 weeks OR 14 to 16 weeks from further East
NOTE – Lead times (from date of order)